Website Design Integration Into Site Palette $900
You supply the website design and we integrate it into Site Palette's website template to create a fully functional and editable website powered by Site Palette. The website design template includes the header, footer, main page navigation, category navigation (ecommerce system), background and edges of a website. Some limitations may apply.

-Up to one hour of professional integration consultation via phone/webinar & email
-Slicing, coding and integrating your design into Site Palette's website template
-Site Palette website system (CMS) with many features Learn More
-Unlimited pages (Added by customer using Website Editor)
-"Contact Us" Email Form
-Turnaround time is usually 1-2 weeks (not including your turn around time).
(Design Integration is for adding your design to the master navigation template, not the content or ecommerce areas. The master navigation template is the part if the site that says the same when navigating from one page to the next. The content and ecommerce area is the part of the site that changes when navigating from one page to the next. Design Integration does not include adding pages, adding content to pages, or adding products; all this you can do with Site Palette. Design is not included in this service.)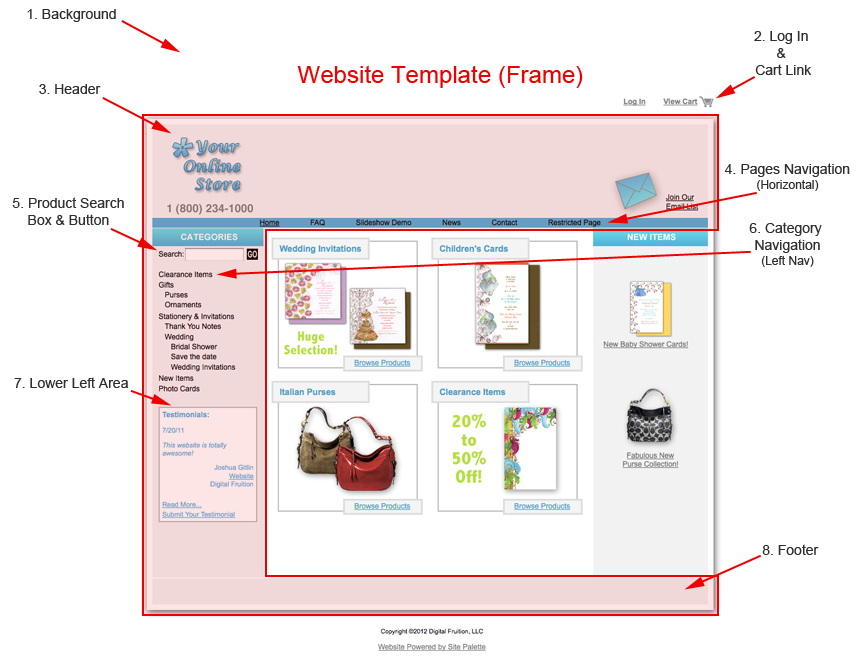 Details of what's included in Website Design Integration:
(Please keep in mind the above image of a website template is an example of the areas that comprise a template, it's only for instructional purposes. The design you submit can look completely different.)

1. Background:
Your background can be a solid color or an image, preferably a repeatable image to keep the file size and loading time down.

2. Log In & Cart Link:
Your log in link and cart icon colorized to match your design. These links are placed in the header or above. We offer buttons & cart icon design integration for an additional cost. Learn More

3. Header:
After your design integration, you can edit your header to keep things like your phone number updated. Some do-it-yourself editing limitations may apply, depending upon your design.

4. Pages Navigation:
You can add pages on your own in your Site Palette admin under "Manage Pages" and those pages show up here when you make them "Published". This horizontal navigation bar can be above the header, just below the header or just above the footer and extends the full width of the site. We offer, at an additional cost, drop down menus for sub-pages. Learn More

5. Product Search Box & Button:
Your "GO" button is colorized to match your design. This can be placed either just above your category left navigation or in your header. We offer design integration for buttons at an additional cost. Learn More

6. Category Navigation:
As you add your categories in your Site Palette admin and make them "active" they show up in this area. Your category navigation can be either a left navigation area (as shown above) or a horizontal navigation across the width of your site. A horizontal navigation bar can be above the header, just below the header or just above the footer. You can also hide the left navigation area on main pages on a page per page basis. We offer, at an additional cost, drop down menus for sub-categories. Learn More

7. Lower Left Area:
This area shows up on all main pages as a default, but you can turn it off on the main pages, on a page per page basis or you can request we have this off for all pages. This is a great place to put a newsletter signup link, customer comments, or other information you want your website visitors to see as they go from page to page. This area you can also edit on your own. Some do-it-yourself editing limitations may apply, depending upon your design.

8. Footer:
Many use this area to manually add page links with our editor or other content like payment methods. This area you can also edit on your own. Some do-it-yourself editing limitations may apply, depending upon your design.

Content Area:
What is displayed in the content area is the page your website visitor navigated to. To see an example of this area please roll your cursor over the example image above. This content can be the main pages or the ecommerce pages like categories and products. On the ecommerce side, Site Palette takes the content you have entered and displays that using our standard layout and design format to show your category pages and product detail pages. As for the main pages side, you can add your own images and other content to your pages with our editor, all you need is basic word processing skills. For advanced design and layout integration we recommend a professional developer. We offer Home Page Design Integration for a moderate fee. Learn More